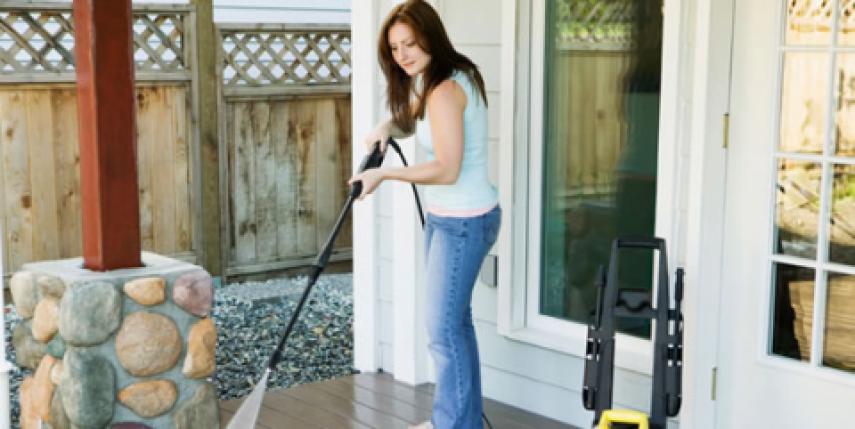 If you're a DIY-er, Springtime's arrival is the perfect green light to start a few home improvement projects. If you don't already have a warm weather to-do list for this year, here are a few key areas of the home to consider sprucing up.
Gutters and Downspouts
Keeping gutters clean and downspouts in good working order can save you thousands of dollars in damage caused by excess water at your home's foundation.
Replace any damaged gutter or downspout sections, and be sure to clean your gutters of leaves and other debris that could keep rainwater from flowing freely away from your home. Consider adding gutter covers to help keep debris from collecting between cleanings.
If your downspouts empty onto your yard rather than directly into the sewer system, use adequate downspout extenders to direct water away from your home – they should reach at least five feet into your yard.
Windows and Doors
Did your windows feel drafty this winter? It could be time for a replacement. Older, single-pane windows are especially good candidates for an upgrade. Today's energy-efficient double-pane windows can help you save on heating and cooling bills, keep your home's indoor temperature consistent year-round, and help protect items in your home from fading in the sun.
On the inside, updating your blinds or shades can add a fresh pop of color to your home without having to paint.
To enhance your home's curb appeal, a new, energy-efficient front door can provide an attractive focal point and help reduce energy costs at the same time. Options like decorative glass accents and sidelights let in natural light while adding style. If a new door isn't in your plans, a fresh coat of paint will give your existing door an attractive, new look.
Air Conditioning
While most air conditioning work requires help from the pros, simple things like keeping the outdoor unit clean can increase efficiency. Use a garden hose to spray the cooling fins, coils and vents clean, and remove any debris or overgrown plants in contact with the unit.
Clean your home's ductwork, too. Remove register covers and use your vacuum cleaner's hose to get rid of any dust bunnies and cobwebs that have collected. You can also vacuum inside the ducts as far as you can reach. For a full duct cleaning you'll need to call in a professional cleaning service.